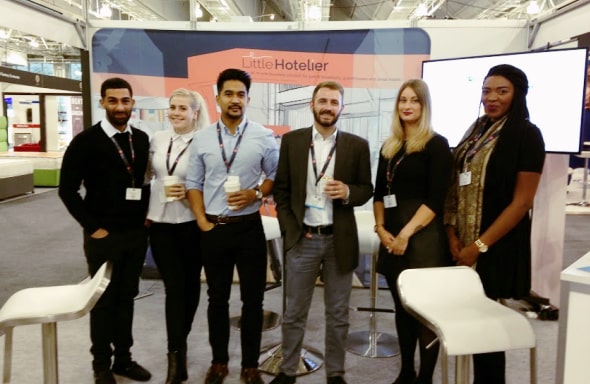 Little Hotelier was in attendance at UK's largest event for independent, luxury and boutique hotels; The Independent Hotel Show.
The conference was buzzing with positive energy and it was great to be amongst so many brilliant minds in the hospitality industry.
From speaking to hotels in attendance, it's clear that small accommodation providers are becoming more aware of how their online presence truly impacts their ability to attract new guests.
Time for a change
Online presence is paramount in this day and age for businesses of all kinds, including Little Hotelier's. This is why we took a good look at our own branding and decided to give it a facelift.
Here's us showing off our new branding at stand #80.

One lucky winner
All visitors who came by the Little Hotelier booth had the opportunity to enter in our exclusive competition, with the chance to win a professional photography package to enhance and amplify their online presence.
What better way to ramp up your online presence than with stunning photos of your property?
The lucky winner was Avalon Lodge Bed & Breakfast:

Congratulations to owners Nick and Jenny Westington.
With traveller trends shifting at such a rapid pace, it can be difficult to keep up, making it imperative that small hotels continually reassess their online presence to make sure they're putting their best foot forward.
High tea & trends
Our presentation with B&B Association's David Weston covered Great ways to Capitalise on Emerging Traveller Trends over high tea and scones.

With James Bishop from Little Hotelier heading the presentation, we covered the latest trends in the independent hotel market, along with tips on how they could be harnessed for revenue.
This video was recorded and you can watch it here.
You can also download our ebook on the latest traveller trends:

Back to top