To say that a website is important to a hotel would perhaps be the understatement of this digital century. The internet is now where travellers predominantly go to find and book their next adventure, so a hotelier needs to do all they can to maximise their online visibility.
Sure, listings on key OTAs like Booking.com, Expedia and Airbnb can be a big help, but the potential of these profiles is limited: they don't rank well (or at all) on Google, you can't add in much information, and the OTA will attempt to act as middleman in every interaction while taking a slice of your profits.
By building an optimised website you'll grant yourself the opportunity to rank on Google. You'll also give guests all the information they need, as well as a way to book directly, increasing both efficiency and profits of your business.
So you need a website – the challenge is building one. But with the help of a modern website builder and purpose-built hotel website templates, hotel website design and construction can be surprisingly easy.
What is the best website builder for hotels?
There is a subtle difference between the best website builder, and the best hotel website builder. There are a number of well known and widely used website builders, such as Wix and Squarespace, that have made their names as simple, intuitive and effective tools that anyone can use to create their own site.
But a hotel website is a unique proposition. Hotel website layouts and architecture can be very different to those of other business sites. You need a way for guests to quickly check room price and availability. You need direct booking functionality. You need hotel website templates that showcase your property, and give guests all the information they need to make an informed decision as to whether your property is right for them.
Sure, you can build a hotel website using tools like Wix and Squarespace. But they aren't designed for that purpose. What began as a simple and intuitive tool can soon turn complicated, as you need to customise templates and find plugins that ensure your site looks and works as a hotel website should.
But there is another way: choosing a specialised tool like the Little Hotelier online hotel website builder.
Little Hotelier's website builder has been designed from the ground up to build hotel websites, which you can do in less than an hour, even if you've never built a website before. All the necessary functionality is included, from the ability to take direct bookings to integration with your property management system, and you get all this at one low price.
But perhaps the best feature of the Little Hotelier website builder is the beauty of the results, thanks to the range of stunning hotel website templates offered by the tool.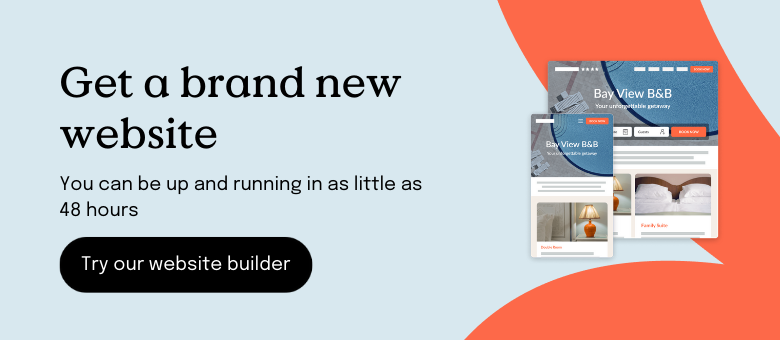 How are website templates created?
The best hotel website templates tick two boxes:
They make constructing a web page easy, offering a wealth of pre-built elements that can be dragged and dropped into place.
They look stunning no matter who creates them.
When you use an intuitive website building tool, you might be shocked at how simple the construction of a professional looking website, full of professional looking web pages, can be. Simply choose the hotel website design that best matches the look and feel of your property, then begin populating the hotel website templates that will fill the site.
A tool like Little Hotelier's website builder makes the process of crafting each web page unbelievably simple: zero web design experience is required. Simply type into the text boxes, drag and drop imagery (whether pre-loaded or your own) into place, and move all elements around as you see fit.
What does such a website look like? Check out our range of hotel website samples, where you can take a tour through our range of templates, and get a sense of how your hotel website might look.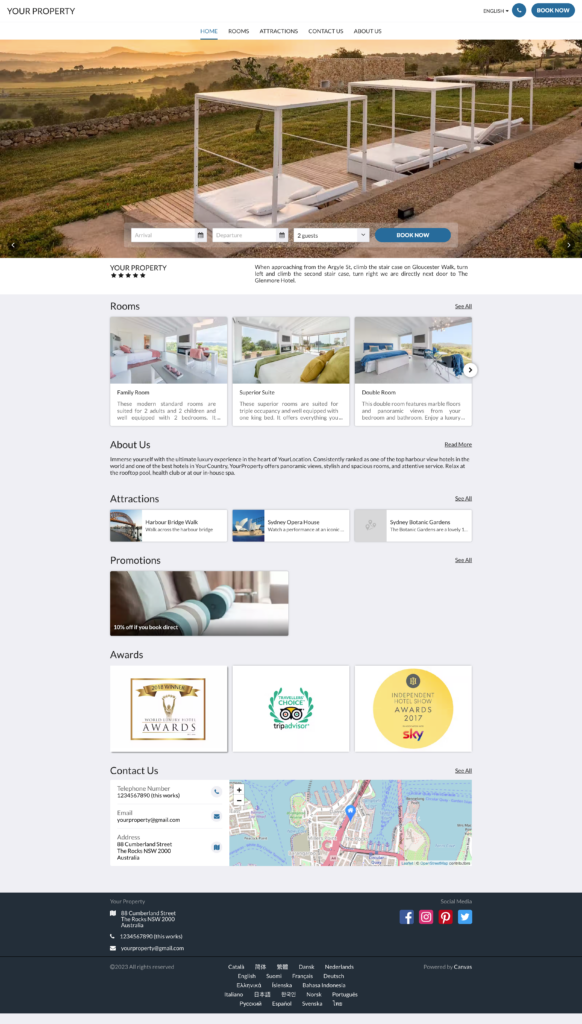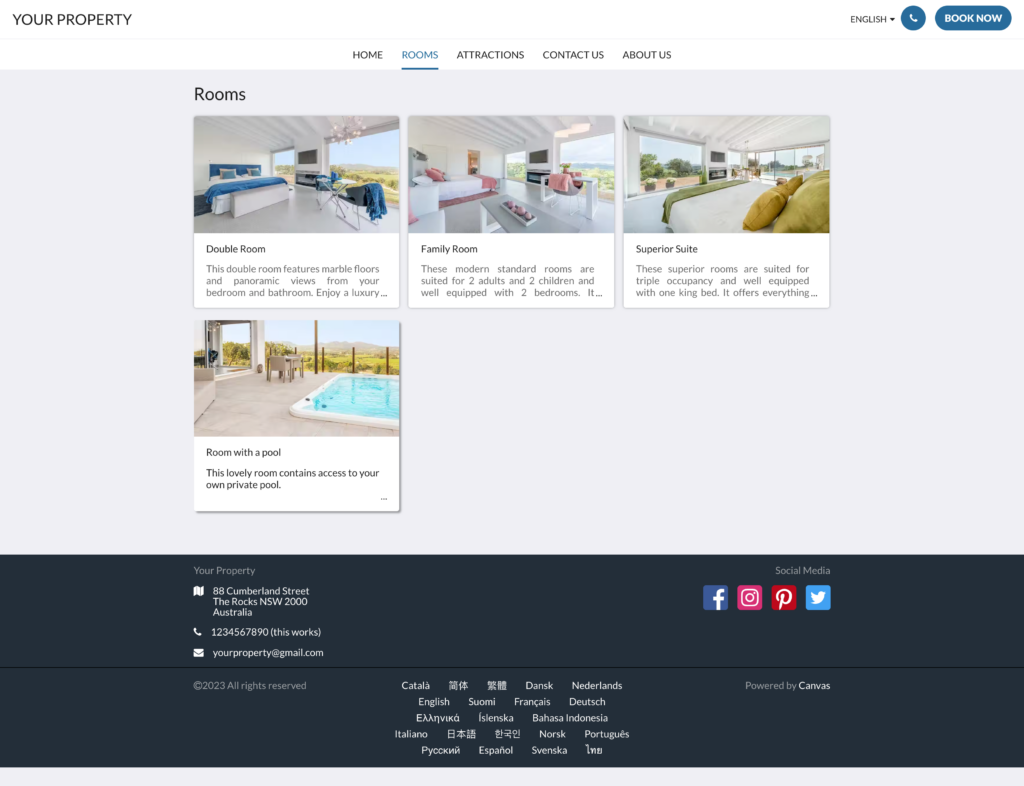 What should a hotel website include?
As we've already discussed, hotel websites can be very different to other business websites, which is why it's best to choose a purpose-built hotel website builder tool. But how exactly are hotel websites different? To gain an understanding, let's look at the key elements that every hotel website should feature.
Direct booking functionality: A website grants you the opportunity to make far more money by allowing guests to book directly, which avoids those often-high OTA fees. In fact, the Little Hotelier's hotel booking engine can increase revenue by up to 43%!
Mobile friendliness: An ever-increasing number of travellers are booking their next stay on the go. A mobile-optimised site not only ensures you secure their business, it can also help you to rank higher on Google. All Little Hotelier website builder templates work effortlessly across desktop, tablet and mobile screens.
High quality imagery: Pictures tell a thousand words. You want yours to shout 'BOOK ME!' 500 times over. Invest in professional photography and upload those high quality images to your site.
An intuitive user experience: Your hotel website should be as easy to navigate as possible. Choose a handful of clear and concise menu items. Ensure your 'BOOK NOW' button is big and bright. Create an FAQ page that answers the most common queries.
Concise and compelling information: The words you use will also determine how intuitive your user experience is. Invest in professional copywriting, and ensure that all information – your property details, your rules and policies, things to do in the local area – is written in a concise and compelling way.
Contact information: Guests will often have questions that even the most thorough of FAQ pages can't answer. Ensure your contact details are featured on every page to ensure you don't miss out on potential business.
Guest testimonials: People trust people. 90% of consumers read online reviews before visiting a business, and 88% trust online reviews as much as recommendations from family and friends. Put your most glowing guest reviews up in lights to encourage others to experience your hospitality.
Your new hotel website is only a few clicks away
Given the proven success that thousands of small accommodation providers have already experienced with Little Hotelier, we're confident that we offer the best software for your business.
But why trust us when you can try it yourself?
Click here to start your free, fully featured 30-day trial today.
Share with your community:
We recommend the following articles for you
Back to top