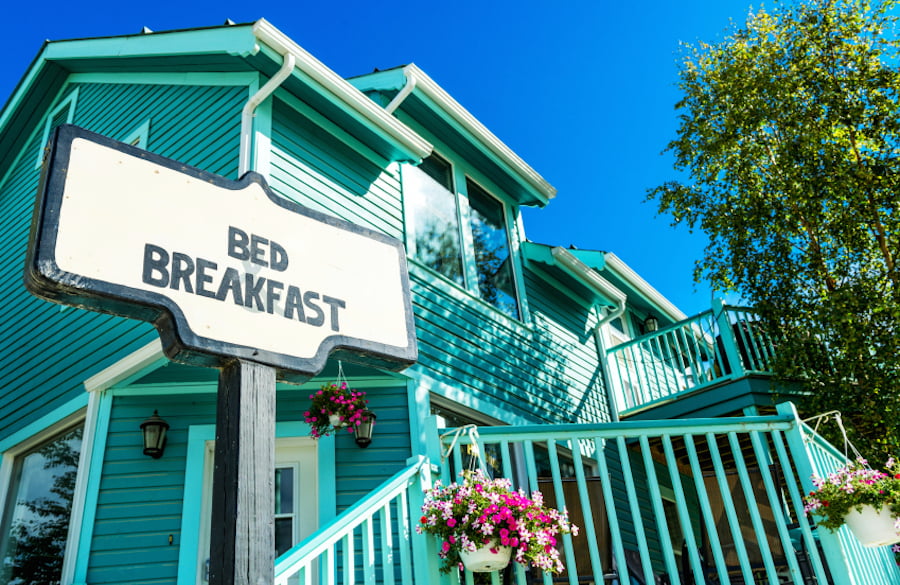 Standing out from the crowd. It's what every innkeeper wants and needs if their B&B is to succeed. While the exterior of your property is very important, inns need to possess much more than just a "pretty face" in order to meet guests' demands and keep them coming back amid such a competitive travel market.
Don't get me wrong, having curb appeal is critical for first impressions, but what's inside your inn – accommodations, food, amenities, guests relations, and more – will have the greatest impact.
Many of those things are what guests will be sharing with their family and friends and across their social media accounts. That's why as much work as you put into your inn's exterior, you also need to consider what makes all of the facets to your business enticing to the public.
Some elements to consider include furnishing your inn; making breakfast a memorable meal; taking care of guests; marketing your inn; and maintaining it. Coincidently, these are all chapter titles in my book. We covered furnishing your inn in our previous post, "Do More with Decor," back in October 2015, and last month we took a look at how to make morning meals more memorable in "B&B Breakfast Trends."
So for this article, let's focus on the big three that remain.
Taking Care of Guests
To become the host with the most, start by setting the tone with a warm welcome. Remind yourself of pertinent reservation details by knowing your guests' names, dietary restrictions, packages booked, or other special requests.
Make sure your B&B's exterior is properly landscaped; there is an ease of parking; and everything is maintained (for example, well-spaced lighting for guests arriving after dark). Check your entryway. Is it clean, painted, uncluttered, and welcoming?
Have an organized check-in procedure to speed the process along, then help guests get settled in and give them a tour that includes pertinent information on amenities, appliances, and policies.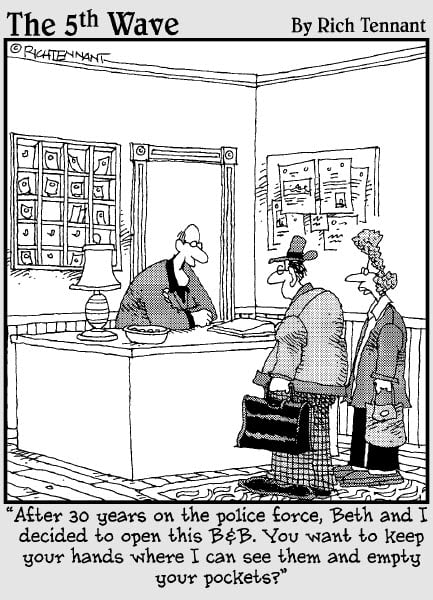 Try to be flexible by accommodating early check-ins and late arrivals, and interact with your guests when you can by providing suggestions for activities and giving recommendations based on their interests. Be available and be interested, but not intrusive.
Most importantly, be prepared for emergencies to help keep guests feeling safe and comfortable.
Marketing Your Inn
Marketing is the art of portraying B&B's in the most favorable light possible and sharing that message with as many people as you can. It's an ongoing process, which consists of advertising in print and online; developing positive relationships with guests and businesses; and showing the media why your inn is so amazing.
To put those heads in beds, first and foremost create an effective marketing message. Know what you want to say based on identifying what makes you unique. Then build your brand, develop a logo, and design a website that are the best representation of your message.
Next think about resources that will help get the word out, such as listing in online directories; featuring your B&B on state, local, and association websites; and generating word-of-mouth promotion through review sites and social media.
Also consider networking for fun and profit. It's a great way to meet new people (something I know as innkeepers you already enjoy!), get to know them, and find out what they can do help your business and vice versa.
Maintaining It
Just like maintaining your body, you have to properly maintain your B&B to keep business healthy.
A few great ways to do this range from organizing your to-do list into schedules and chore checklists; planning your attack on daily chores and bigger cleaning jobs; selecting the right equipment for your needs; and taking good care of outdoor spaces.
Although your guests come in all shapes and sizes, they have one thing in common: they expect well-maintained and clean accommodations. Since there are only so many hours in a day, you can save a lot of time if you have a foundation based on organization, hard work, flexibility, and high standards.
You may also want to consider getting help when you need it. Remember: No man (or woman) is an island, especially when it comes to the daily demands of running a busy B&B.
Author Bio

Mary White, Founder & CEO
Mary White is the CEO & Founder of BnBFinder.com and the author of Running a Bed & Breakfast for Dummies. A former securities broker, she decided to embark on a new venture – internet marketing – nearly 20 years ago and developed a user-friendly website that places B&Bs and inns on a competitive level with larger hotels and resorts. Today, BnBFinder.com earns the industry's highest rankings and provides compelling content for guests. Mary has been named a bed and breakfast industry leader by Innkeeping Quarterly magazine and is the recipient of the Professional Association of Innkeepers International's Award of Merit.

Share with your community:
We recommend the following articles for you
Back to top