Booking engines, channel managers and front desk systems are all types of technology being used by modern accommodation providers – even small properties like B&Bs, guesthouses, lodges, inns, and small hotels.
Here's some more information on what this technology entails and how you can use it to improve operations at your business.
What is a hotel booking system?
A hotel booking system, also known as an online booking engine, is a software application used to enable secure online reservations.
Guests like using booking engines because it's more convenient for them. Instead of having to wait for you to be at your desk, they can quickly check your availability, book and confirm their stays.
Hotels of all sizes have had to adapt to the increasing demand for online bookings. Consider that a third of all spending on travel – to the tune of $145 billion – goes through online booking.
Your booking system is the key to securing more online direct reservations with minimal effort. It allows you to sell your rooms through:
Your own website
Your Facebook page
Metasearch sites like Google Hotel Ads
A booking engine can take credit card details and work with an online merchant service or integrate with a Payment Gateway to process deposits and payments.
Instead of having to manually input online bookings, the booking system automatically processes them, safely storing all of your customers' data.
The key features of a hotel booking system
As hotel booking engines have been around for a while, they have evolved to have an array of advanced features.
Without getting too technical, here are the basic features that yours should have:
Visual calendar
Hotel booking engines give your guests an easy interface where they can select their dates and check your availability and rates.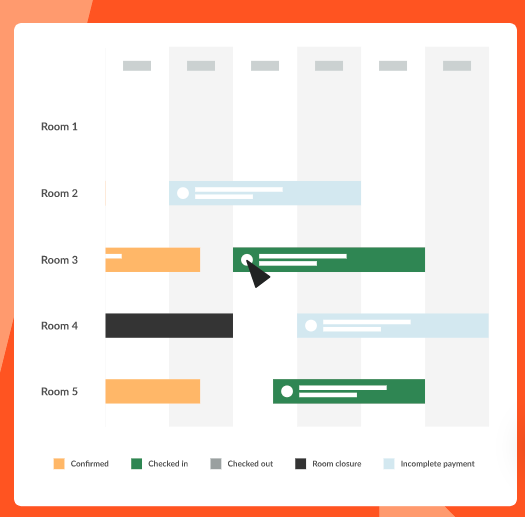 They won't need to ask you any questions because they have found all the answers to their questions on your site.
Secure online payment
As with any online payment, there is the issue of sensitive data in the payment process. Not only does your hotel booking engine allow for a professional payment process, but it will make sure your guests' sensitive data is safe from hackers.
Today's travellers are familiar with online bookings and actually feel more comfortable entering their credit card details into a secure booking form, rather than over the phone or via email.
Accessible guest data
Storing your guests' data in multiple spreadsheets is not a good long term strategy. You need to be able to search your database and access their information instantly, when you need it.
Your online booking engine should be cloud-based and have a customer database built into it, giving you immediate access to all the guest information you need. You could be at the golf course on your mobile, or sitting on your couch with your iPad – all you need is internet access to log in.
Automated emails
There are certain emails that each guest should receive – for example, booking confirmation, reminder before their stay, tips during their stay, and a feedback request following their stay.
Modern hotel booking engines let you schedule and personalise these emails, applying your brand's colours to each template, and making sure each recipient gets a personal greeting. Otherwise, you are stuck creating templates in word documents, relying on your own memory to send individual emails at the right times.
Advanced reports
Your hotel booking engine gives you a complete overview of the daily running and performance of your property.
With advanced reporting, you can instantly view guest payment details, easily generate monthly performance reports, or select a view of outstanding payments in one simple click.
Integration with online sales channels
Online sales channels like OTAs and meta search sites are necessary tactics if you want to sell more rooms online. The trouble is keeping your inventory up to date.
If your hotel booking engine doesn't support channel management, you risk overbooking your rooms because there's no way to display the correct availability in real time across all channels.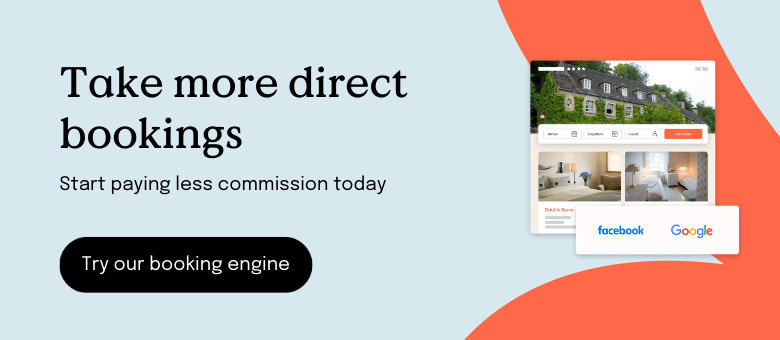 What is a channel manager?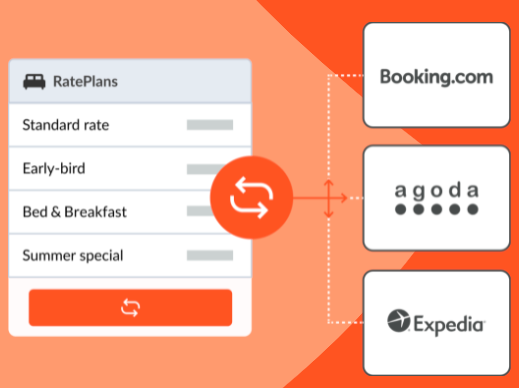 As the name suggests, channel managers allow properties to efficiently manage the different online distribution channels that their property sells rooms through.
They allow small properties to give booking sites their up to date rates and inventory, using a pooled inventory model. This means that no matter where a booking is made – be it direct on your website, through a third party booking site, or at your point of sale – inventory is always up to date and you are never overbooked.
Channel managers give small accommodation providers two main benefits:
Ability to sell the most rooms possible through as many channels as possible (without risk of overbooking).
Reduced admin by managing inventory and room rates from one central place (no need to log into the backend system of each booking site)
For travellers, channel managers allow them to instantly confirm a booking from third party websites – typically trusted OTAs that have special rates, and whom they feel comfortable booking with.
The channel management software should integrate with your booking system so that there is one view of inventory and bookings at any point in time.
Many modern hotel booking engines already have channel managers attached, but you need to make sure that it supports the booking sites you already sell through, and also that it connects you to a heap of new booking sites that reach different markets.
What is front desk system?
A front desk system (also known as a property management system), is the software used to automate the operations of a hotel.
It allows you to manage the day-to-day operations of a property, including:
Processing reservations (online and POS)
Managing guest check-ins and check-outs
Managing guest booking details
Tracking your inventory and rates
Handling front office accounting
Managing maintenance
Managing guest communications (automated emails)
Front desk systems have advanced to the point that they integrate with booking engines and channel managers.
Booking systems, channel managers, and front desk systems for small accommodation providers
When it comes to finding the right solutions for your property, it's worth exploring an all-in-one hotel reservation system that can handle online bookings, channel management, front desk activities and more.
Make sure the software you choose lines up with the needs of your small property, especially in terms of flexibility and cost. Some solutions will enforce contracts, and structure pricing based on a percentage of commission per booking.
Conversely, systems like Little Hotelier operate off a no-contract, fixed monthly fee, which makes it easier for you to budget your expenses.
It's also a good idea to do a free trial of each of the systems you're considering. You want to play around with it to make sure that it is truly the easiest and most comprehensive solution for your property.
Why not start with Little Hotelier ?

Compartir
Te recomendamos los siguientes artículos
Volver al principio