Did you know that your small hotel's booking engine is just one piece of the technology puzzle?
Modern hotel booking engines integrate with websites, channel managers and front desk systems.
How do they work together?
Websites
Your booking engine should seamlessly integrate with your website, matching its look and feel, providing a consistent experience to your guests.
Make sure your booking engine clearly displays your logo and matches your website's colour palette.
This ensures that when your guests are on your booking form, they won't feel as if they've left your website because it matches your theme and branding.
Your 'book now' button should also be easy to find from any page on the site, so your guests are only a few clicks away from making a reservation.
If it takes more than 3 seconds for guests to find your 'book now' button after landing on your home page, you're in trouble! Make it as easy for them to book with you as possible.
Many booking engines integrate with existing website platforms (also known as content management systems), but modern ones have made it even easier to do so. Look for a CMS that is the easiest to use with your booking engine, so that you can make updates on the fly.
For example, see what the The Falcon at Hatton has done: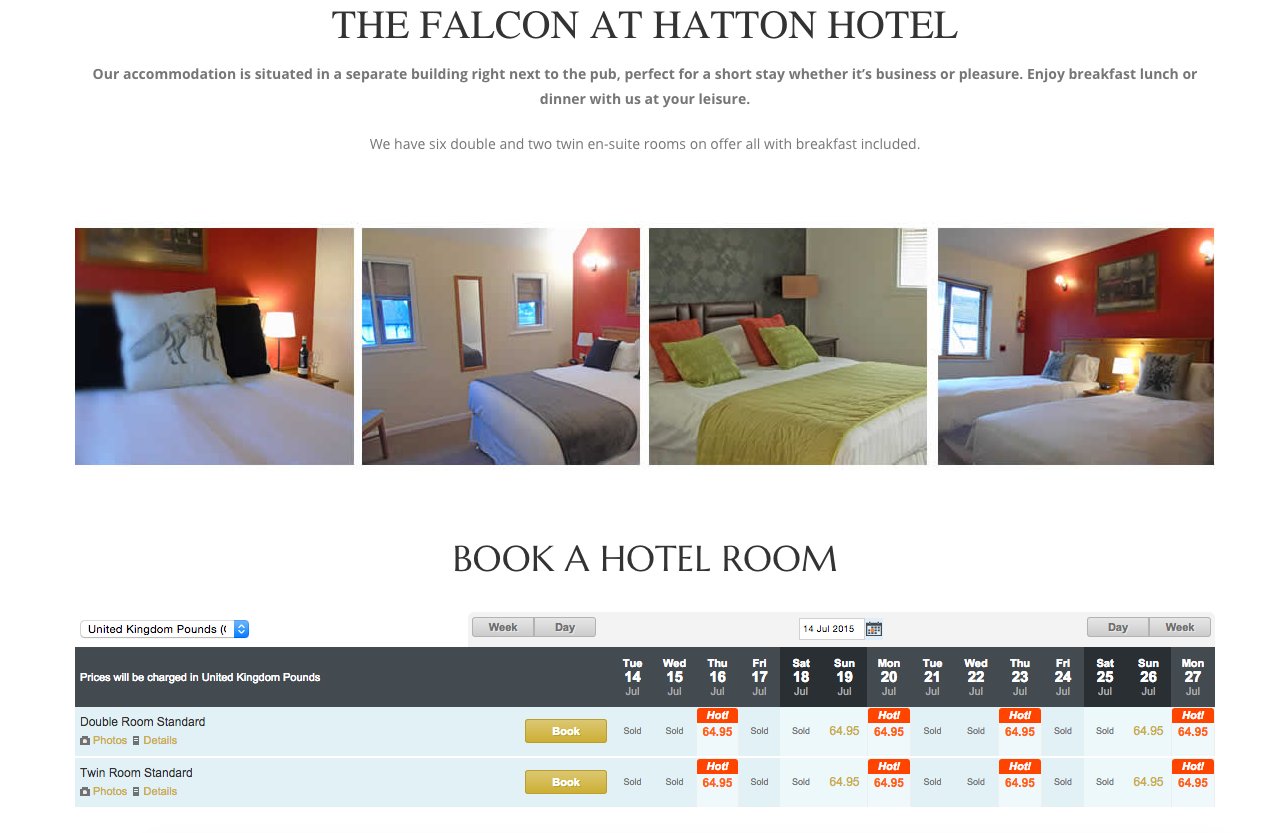 We love:
How when you click on "Stay With Us" on the menu navigation, it auto-scrolls down to the accommodation area on the home page – which is complete with a description, images, and embedded booking engine! It couldn't be easier to book a room with this property.
Their home page which gives website visitors a stunning slideshow of images.
The clear menu navigation with a few options for where to go.
Click here for more small hotel websites to draw inspiration from.
Channel managers
As the name suggests, channel managers allow properties to efficiently manage the different online distribution channels that their property sells through.
They allow small properties to give booking sites their up to date rates and inventory, using a pooled inventory model.
This means that no matter where a booking is made – be it direct on your website, through a third party booking site, or at your point of sale – inventory is always up to date and you are never overbooked.

The channel management software should integrate with your booking engine so that there is one view of inventory and bookings at any point in time.
Many modern hotel booking engines already have channel managers attached, but you need to make sure that it supports the booking sites you already sell through, and also that it connects you to a heap of new booking sites that reach different markets.
Booking engines
Without a hotel booking engine, your small property will find it difficult to compete in today's marketplace.
Put simply, a hotel booking engine allows guests to instantly secure online reservations. It is a software application that allows you to sell your rooms through your own website, and third party sites that your hotel is listed on (eg. Facebook).
Guests like using booking engines because it's more convenient for them. Instead of having to wait for you to be at your desk, they can quickly check your availability, book and confirm their stays.
Hotels of all sizes have had to adapt to the increasing demand for online bookings. Consider that a third of all spending on travel – to the tune of $145 billion – goes through online booking (source).
Your booking engine is the key to securing more online direct reservations with minimal effort. This buyer's guide will show you everything you need to know about choosing the one that's right for your small hotel, bed and breakfast, inn, or guest house.
Small hotels don't need the added hassle of using separate systems for each. Find an all-in-one hotel reservation system that is suited to small hotels, like Little Hotelier is!