Increasing bookings can often rely on increasing brand awareness and creating a brand image that people remember and connect to.
A customer could be visiting your web page for one of many reasons; direct web-search, after seeing you on an OTA, or through your social media marketing. In any case, this is your chance to make sure a customer doesn't leave your website without making a booking.
Considering 52% of travelers will be on your B&B website after seeing you on an OTA, it is essential that you have full control over your image and work to gain your customer's trust so you are converting web traffic into commision-free direct bookings, rather than sending them back to the other booking sites.
The best way to represent the true heart and soul on your B&B is through visual storytelling. Here are some of the best ways you can do this…
A Picture Tells A Thousand Words
A beautiful and emotive visual representation always begins with photographs, and to fully express what your property has to offer you need to make sure you are showcasing high resolution photographs of your greatest assets.
Display your collection of property images via a well presented and responsive photo gallery tab on your website.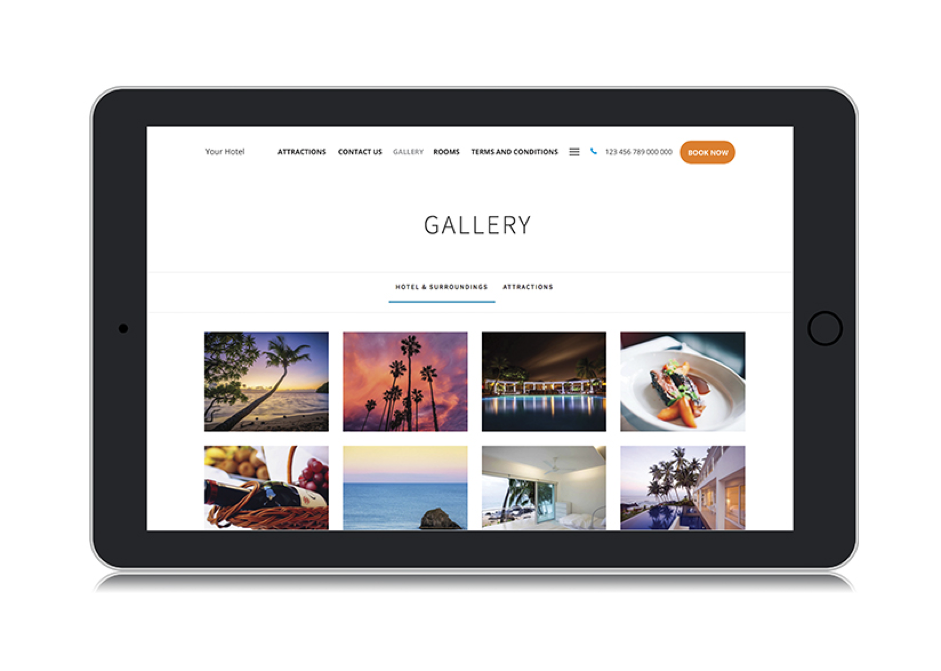 You can then use this as a marketing tool to celebrate your excellent amenities, upsell extras and create a sense of personality by uploading photos of staff and prior guests enjoying their stay.
Use Colours That Represent Your B&B
Colour can be a very powerful method of representing a brand in a lasting and memorable way. If someone were to ask you which brand comes to mind when you think of red, the Coca Cola logo would likely be synonymous with your response.
Humans are taught colour association from a very young age, so particular colours are associated with certain emotions which trigger actions.
For example; warm colours like red, orange and yellow are eye-catching and effective when used at the point-of-sale. Branding your direct booking buttons in these colours will make it clear to your customers what action they should take and where they can make their booking.

With Websites by Little Hotelier B&Bs can make any template their own to effortlessly create a beautiful hotel or bed & breakfast website that will turn browsers into paying guests. Little Hotelier allows you to personalise fonts, colors, and layouts to sell your property and destination uniquely.
Write Enticing Descriptions
Use custom pages to describe, show and advertise what makes your accommodation unique; like your location, restaurant, spa or relaxing gardens.

B&Bs can improve their SEO and capture more booking by writing about activities and attractions in your area, explaining why customers should visit. All the while having the "book now" button displayed prominently on the page.
Little Hotelier's built-in destination showcase page will automatically pull in local attractions and activities to entice your guests to explore.
Take a look at these 5 great examples of visual storytelling here.