If you know you need an online booking system for your bed and breakfast, but are overwhelmed by your options, this post is for you.
It's important to know which features are essential, not only for you but also for your customers. Here are the features that you both want and need from your reservation system.
1. Online payment processing
Not only are travelers comfortable with making payments online, but this is their preferred method of payment!
It's easy and convenient for them to book their hotel rooms directly through your website, and they may opt for a room at the competing property if they cannot do so.
A reservation system that provides you with a secure online payment portal that integrates seamlessly into your website is critical to your success as a small hotel.
2. Automatic communications
Automatic emails have become the norm throughout the travel industry, to the point that your guests expect to receive a confirmation email once they have booked a room.
Reminder emails, tips for traveling in the area and feedback requests are just a few ways you can use automatic emails to improve communications with your guests.
Through your reservation system, you should be able to format and schedule these messages.
3. Channel management system
In order to improve your distribution and increase your online bookings, you need to market your property to online travel agents (OTAs).
With a channel manager, you can display your live inventory and current rates across all channels simultaneously – including your own website.
It's the only way to minimize the risk of overbooking your rooms and distribute to multiple channels effectively.
4. Advanced reporting
You will want to select a reservation system that allows you to create customized reports containing valuable information about your property.
Through these reports, you can see your daily, weekly, monthly or yearly performance at a glance. You also can view payment details and outstanding payments.
You need a system with reports that are simple to create, generate and process, and allow you to make the best decisions for your hotel.
5. Mobile management technology
As a small hotel operator, you likely don't have enough time in the day as it is to complete your administrative tasks.
Feeling stuck in the office when you would rather be interacting with your guests is frustrating, which is why it's necessary to find an online reservation system that has mobile technology.
This allows you to manage your business from your preferred mobile device. An online booking system with an app, like Little Hotelier, further enhances your ability to manage your hotel from wherever you are.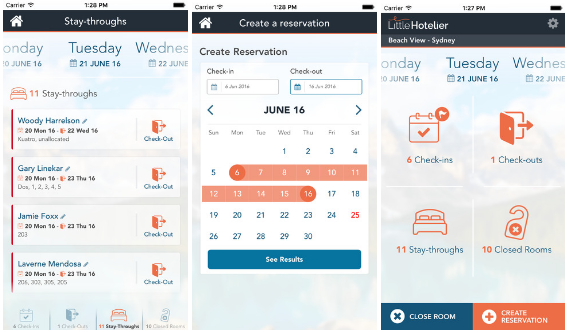 Ultimately, this allows you to become more efficient and focus on the important task of caring for your guests.
Find an
all-in-one

business solution

Little Hotelier's all-in-one solution has all of these features, and more! Why not see how it works?