You may have noticed within the past year a handful of B&B's coming up with new strategies when it comes time to sell their inns. One of these includes a "win the inn" contest. From East Coast to West, this trend has become newsworthy not only for its creativity – but also for a little bit of controversy. I think it's important to know that if this is an avenue you wish to pursue, there are several critical elements to keep in mind.
Learn the Legality
First and foremost, be very thorough in your research and preparation of the contest. Make sure to clearly outline the contest rules of each stage in the process – from entry, to judging, to awarding the inn – with the help of a legal advisor who knows the ins and outs of your state's specific laws regarding eligibility, fees, submission requirements, winner notification, transfer of ownership and liability.
Make the Most of Marketing
Getting the word out on the contest is critical to its ensuring success. Make sure after you post details about it on your website that you announce the contest in a creative way within your inn's newsletter and on all of your social media channels.
Be sure to include compelling content that is shareable (images, inn anecdotes, guest quotes, reviews, etc.) as well as information and links about where potential entrants can find all of the contest details.
At the same time, develop a plan for media outreach (local, state, and national, if applicable) to newspapers, magazines, blogs, radio and TV. If this task seems overwhelming, you can hire an outside public relations and marketing firm to handle this aspect for you.
Meanwhile, enlist the help of your area contacts to support your effort. For example, you can provide them with informational postcards that they can share with their network of friends, family and customers.
A Recent Example I Found Inspiring
After 14 years of running The Inn at Rose Hall in Eureka Springs, AR, owner Zoie Kaye decided it was time to start the next chapter in her life – but she didn't want to hand her B&B over to just anyone. Inspired to find the right successor, Zoie opted out of using a realtor and embarked on the "Win the Inn at Rose Hall" Contest. Launching during Valentine's Day weekend, Zoie announced her intentions in an exclusive local broadcast that involved a walk-through tour of the inn (see below).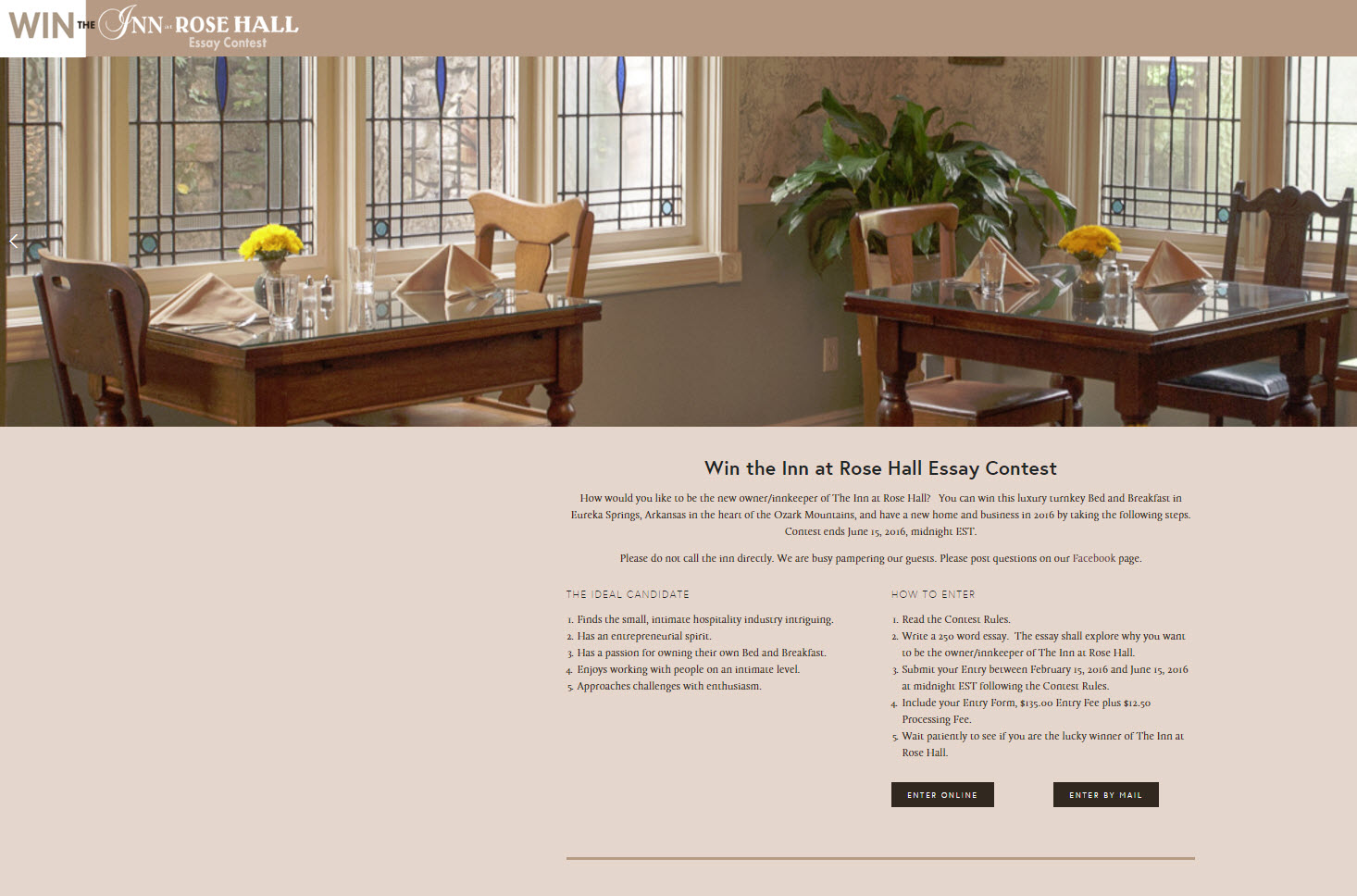 She created an entirely new website to launch the contest which, in addition to including all of the critical information mentioned above, also offers entrants numerous incentives aside from no mortgage.
The turn-key prize features all furnishings, equipment, on-site and telephone training with Zoie and a copy of my book, Running a Bed & Breakfast for Dummies. If you are thinking about selling your B&B and a contest is something you are considering, take a look at www.WinTheInnatRoseHall.com. It can provide plenty of insight – and inspiration.
Author Bio

Mary White, Founder & CEO
Mary White is the CEO & Founder of BnBFinder.com and the author of Running a Bed & Breakfast for Dummies. A former securities broker, she decided to embark on a new venture – internet marketing – nearly 20 years ago and developed a user-friendly website that places B&Bs and inns on a competitive level with larger hotels and resorts. Today, BnBFinder.com earns the industry's highest rankings and provides compelling content for guests. Mary has been named a bed and breakfast industry leader by Innkeeping Quarterly magazine and is the recipient of the Professional Association of Innkeepers International's Award of Merit.