Your bed and breakfast might boast a quaint atmosphere with historical charm, but your business operations have to be constantly evolving if you want to compete in the global travel market.
You don't have to get fancy and try to copy what the big hotels are doing. Instead of installing voice-activated room service or hiring a robot receptionist, you can use smart and simple technology to improve the guest experience in significant ways.
Here are some ideas of how you can make sure your B&B has the most up to date technology:
Finding your bed and breakfast
Then…
Print advertising
It wasn't too long ago that the best way to reach new guests was to put your listing in the yellow pages, or place an ad in the local newspaper.
Glossy magazine advertisements were particularly powerful, but now these print ads are nearly obsolete.
Now…
TripAdvisor listing
TripAdvisor is one of the most popular resources amongst travelers, who want to get objective feedback from other guests who have stayed at your property before.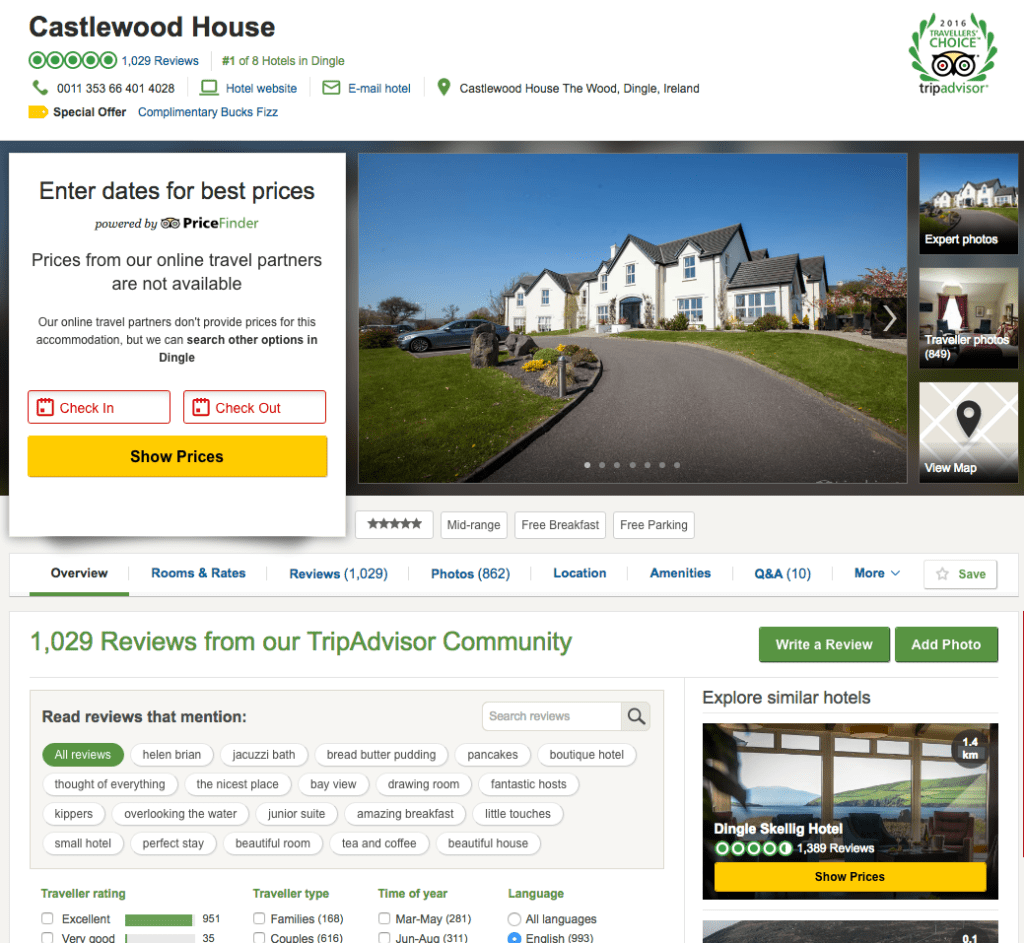 Make sure you:
Upload stunning photos and videos of your rooms and facilities;
Add TripAdvisor widgets to your website;
Get genuine reviews regularly; and,
Learn more about the ins and outs of TripAdvisor here.
Google
Your Google hotel listing will give you a prominent and informative display on the most powerful search engine available.

This is part of your search engine optimization (SEO) strategy, which can be used to improve your rankings on Google, where many of your potential guests will first discover you.
Facebook ads
Social ads, such as the ones on Facebook, can be targeted to very specific and motivated audiences, ensuring that you attract only the most relevant audience.
Social networking
Developing a presence on social media allows you to connect with travelers from around the globe.
One of your guests might take a photo at your bed and breakfast, post it, and tag your property, allowing their friends to discover it and ultimately book their own stay.
Booking your bed and breakfast
Then…
Phone reservations and walk-Ins
People used to have to speak to an individual at your property to finalize their reservation. There was really no other way!
Now…
Email inquiry
Guests can email you to find out more information about your availability and rates.
Direct booking online
If you invest in a booking engine, visitors can book directly on your website in a way that is easy and convenient for them.
3rd party booking online
If you partner with OTAs and metasearch sites, guests can book indirectly online.
Saying goodbye to guests
Then…
No contact
You simply said goodbye when your guests checked out, and hoped that they said good things about you once they returned home.
Now…
Automatic follow-up emails
If you have a modern booking engine like Little Hotelier's, you can use your booking engine to send automated emails to your guests after they check out, asking them to leave feedback and reviews for you online.
To learn more about the features that entail an all-in-one solution, download our free eBook:
Or see Little Hotelier in action by watching a demo: