If you're wondering how you can attract UK travelers to your small hotel, have a look at Deloitte's recently unveiled research on UK travel consumers and their purchasing habits.
Here's the infographic, along with our tips on how bed & breakfasts can attract UK travelers to their properties.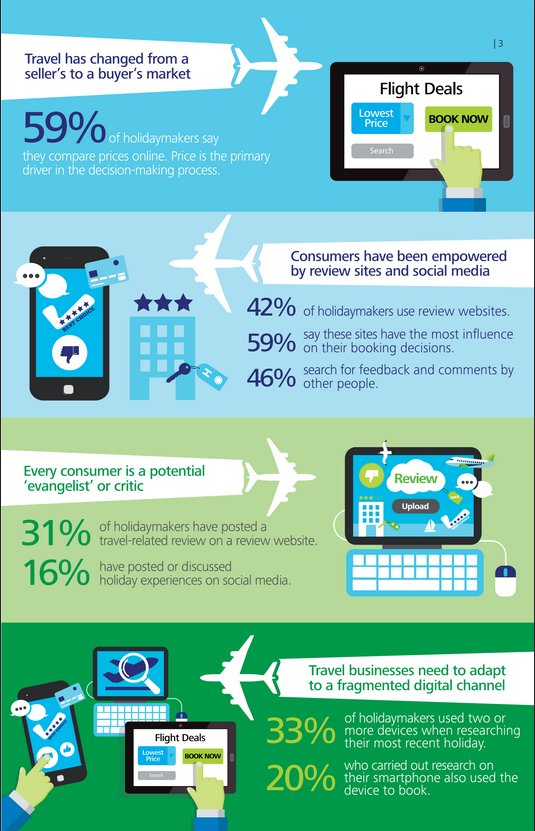 Travelers want the best accommodation deal
59% of travelers say they compare prices online. Price is the primary driver in the decision-making process.
UK travelers are smart when it comes to shopping online, and they will do their research to get the best deal. Bed and breakfasts must structure pricing competitively in order to attract and win these travelers over.
Some clever pricing strategies your small hotel can use:
Set one rate at the same price point as competitors and another rate slightly higher, giving you the best of both worlds.
Set the price of your most basic room to the cheapest price in the market, while pricing your other rooms similar to your competitor's  basic room prices. You will capture the middle market – as well as the lower and higher markets – all in one go.
Use an unrounded price, for example, $99 instead of $100.
Set your small hotel's room rates higher than your competitors. Consider throwing in some extras to justify the increase in price.
Offer your rooms at the lowest price possible to draw in a crowd of guests to your small hotel. This strategy is great to get the word out about your property, but  should not be long term – do it in short bursts.
Make sure your online booking engine has the ability to highlight hot deals, and that you can quickly update your rates across your channels to execute your pricing strategies.
Travelers get advice from social media and review sites
42% of holidaymakers use review websites, 59% say these sites have the most influence on their booking decisions, and 46% search for feedback and comments by other people.
Reviews build trust, and trust leads to more bookings. Although some bed & breakfasts feel as if shying away from review sites will preserve their reputation, it actually has the opposite effect. Your absence from the world of online reviews makes travelers question your legitimacy, and you have basically pulled yourself out of the online race.
At the very least, build up a reputation on TripAdvisor, Facebook, and Google. For more on how to do just that, read this post.
Travelers are vocal about their experience with you
31% of holidaymakers have posted a travel-related review on a review website, and 16% have posted or discussed holiday experiences on social media.
Travelers don't just reference reviews in order to make their travel decisions, they are also actively participating by creating their own recommendations!
Bed and breakfast owners should seize this opportunity and recognise it for what it is – an opportunity to showcase your unique offering and earn genuine word of mouth from your valued guests.
You can be proactive about it, too. Your front desk booking system should be able to automate requests for reviews via a post-stay email.
Travelers are more mobile than ever
33% of holidaymakers used two or more devices when researching their most recent holiday, and 20% who carried out research on their smartphone also used the device to book.
Many devices are involved in the travel research process. In particular, mobile devices are being used more and more.
In fact, Google announced recently that mobile device searches (tablets not included) have exceeded desktop searches!
This is why Google have quickly prioritised mobile search (click here to read our post about how your small hotel can maintain your search engine rank).
For bed & breakfasts, this means making sure your website and booking engine are optimised for mobile devices.
Want more industry tips? Get your hands on our free ebook on mastering your distribution strategy in 2015 and make sure you're keeping up with the times.