In this day and age, online marketing should be one of the largest components of your overall marketing strategy.
And while you'll likely invest your marketing resources into a variety of advertisements and promotions, one that you might want to consider are Google Hotel Ads.
What are Google Hotel Ads?
Google hotel ads appear in a prominent placement on the search engine results page.
A few items that are displayed include:
Rates
Availability
Location
User Reviews
Editorial Descriptions
Google Street Views
High Resolution Photos
Here's an example of how it looks: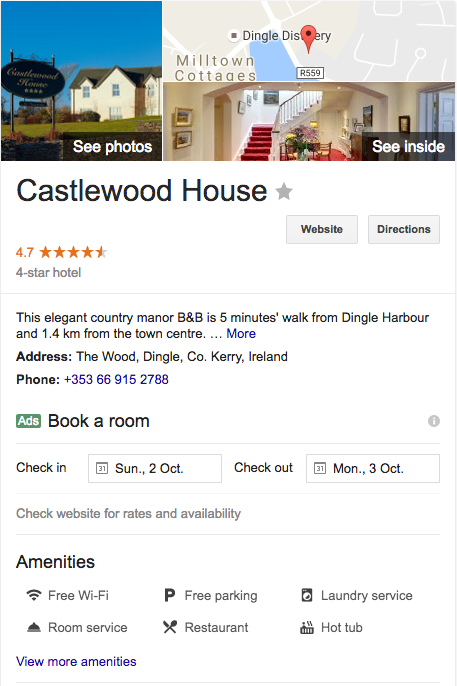 You can control what appears below your own search results – change the images that appear when a user searches for properties like yours, or incorporate interactive tours into your display.
How much does it cost?
Google Hotel Ads use a commission-per-booking model.
This is much better for small hotels and bed and breakfasts, because it means you don't have to worry about managing your bids like you would if it were a pay-per-click model.
How can you get started?
You have to go through a technology solutions provider on this list here.
Then you can do a bunch of other handy things to improve your listing, like: